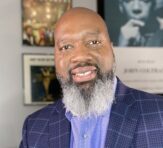 Renard Jenkins joined WarnerMedia in early 2020 and serves as Vice President Content Transmission and Production Technology. In this role, he oversees teams which support hundreds of global television and feature film productions annually, providing production technologies including studio, post and remote applications, IT and IP solutions, production pipeline services, software defined workflows and more. His teams also manage the strategic direction, content acquisition, IP infrastructure and onsite connectivity for major live events including sports, entertainment and news for all WarnerMedia brands.
Jenkins has more than 30 years of experience in the television, radio and film industry. In his former position at PBS, he was responsible for the strategic direction and operational management of PBS's entire media-supply chain. He created PBS's Advanced Format Center. He has also worked for TV One, Discovery and Turner Broadcasting where he received multiple awards for Post Production and R&D including two national Emmys. Jenkins was also awarded the Innovator of the Year award in 2017 for his cutting-edge work and accomplishments.
Jenkins serves as VP, Membership for SMPTE and was elevated to Fellow in 2018. He is on the board of MovieLabs, the Hollywood Professionals Association and the UltraHD Forum. He is also a member of the CTA Technology Committee. He is a past Board Member of AMWA, Former Co-Chair, of the UltraHD Forums' Interoperability Working Group and the NABA Technical Committee. He is also a recipient of the 2020 Broadcasting and Cable Technology Leadership Award.He is a champion and advocate for diversity, equity and inclusion in the technology and media industries. He is a Strategic Advisor to the Board of Directors of the Washington, DC Chapter of the National Association for Multi-Ethnicity In Communications (NAMIC) and the chair of the WarnerMedia Technology and Operations Diversity and Inclusion Council. His volunteer work with local youth in his beloved Bay Area also earned him a Healthy Image Award from the Local Teamsters Union.