UEFA Euro 2020 in Ultra HD
User experiences on KPN iTV
by Dolf Schinkel
TV Architect, KPN
Version 1.0, November 2021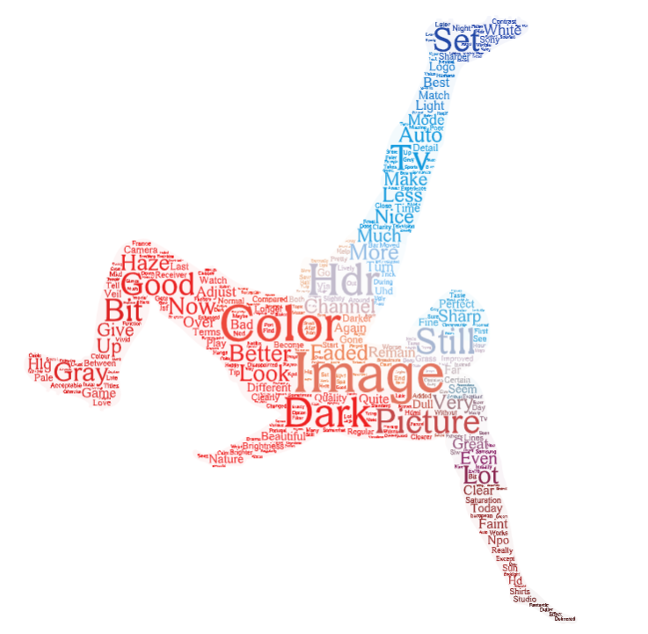 Introduction
The Dutch Public Broadcaster NPO broadcast the European Championship football from 18 June 2021 in Ultra HD, with 4K resolution using High Dynamic Range.
KPN, a TV distributing Telco, made the Ultra HD signal available to all KPN interactive TV users with a UHD-capable receiver.
To extend the reach, KPN also distributed the signal in Full HD with HDR to households that lacked the bandwidth for 4K, providing the other components of an Ultra HD experience within an HD bandwidth and resolution.
The channels were available from 17 June until 12 July 2021. Users were invited to provide their feedback on the KPN internet Forum.
Customer responses varied from excellent to "this looks worse than standard HD". Most TV reproduced the HDR well. However, many customers had to tweak their TV settings or ended up with a grey, foggy or pale image reproduction.
This paper describes how we got all this to work and what we know of the customer experience watching the UHD broadcast on their TV sets.
Ultra HD in the Netherlands
KPN is the Dutch incumbent Telco that distributes TV services. DVB T2 is used for terrestrial broadcasting with a service named "Digitenne", but most customers use the interactive TV service called "KPN iTV".
KPN iTV distributes HD and Ultra HD TV services on its IPTV network to operator-provided AV receivers. The service integrates a program guide (EPG), cloud-based recording, catch-up, start-over TV, and VoD services with streaming apps like Netflix, YouTube, or Amazon Prime. The primary TV services are available online for PC and mobile users. KPN provides a Smart TV app that allows viewing capabilities on a limited number of smart TVs without using a set-top box.
KPN has pioneered Ultra HD TV service delivery in the Netherlands, starting with 4K coverage of the UEFA European championships in cooperation with the Belgian broadcaster VRT in 2016.
In a dedicated 4K TV package, KPN iTV has provided a limited number of Ultra HD TV services – linear and on-demand – since 2016. Starting from 2019, all new AV receivers (STBs) support Ultra HD with HDR 10 and HLG. The current Arris VIPS 5202 receivers support HDMI 2.0b and can convert SRD to HDR, preventing annoying switchovers of the TV set while zapping. Immersive audio is supported with Dolby Atmos. This next-generation audio was recently tested during the Eurovision Song Contest in Rotterdam (see the white paper on the Ultra HD Forum website here).
Over the past few years, other Dutch TV distributors have started providing Ultra HD TV services over satellite, cable, and glass fibre. Most current broadcasters with UHD thematic channels target the European market. However, this summer, TV broadcaster ESPN Ultra HD started regular HDR programming in Full HD (which qualifies as an Ultra HD service per the Ultra HD Forum definition), covering live football aimed at the Dutch TV market only.
Smart TV sets
"GFK's data show that the vast majority of new TVs sold in the Netherlands now support UHD, creating a massive potential for the deployment of UHD services."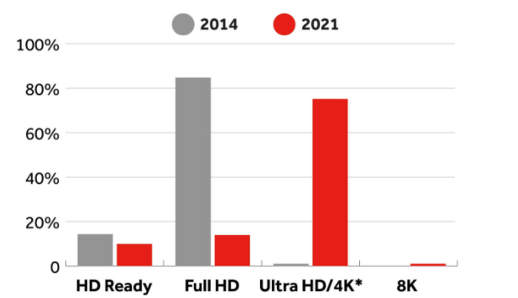 Currently, nearly 50% of all KPN customer households in the Netherlands have at least one Ultra HD Smart TV.
IP Networks for interactive TV
KPN started distributing TV services over DSL almost twenty years ago, now reaching over 2 million homes. The number of fibre customers is growing fast due to substantial network investments. In 2020 fibre reached 35% of the market, and that proportion is planned to exceed 80% in 2026 (source KPN.com)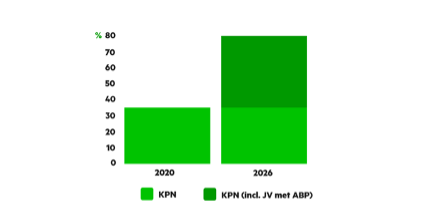 The initial DSL network could not sustain delivery of Ultra HD services with bandwidths from 16 to 25 Mbit/s. But the introduction of pair-bonding and Vplus vectoring has improved network capacity, making copper connections suitable for Ultra HD.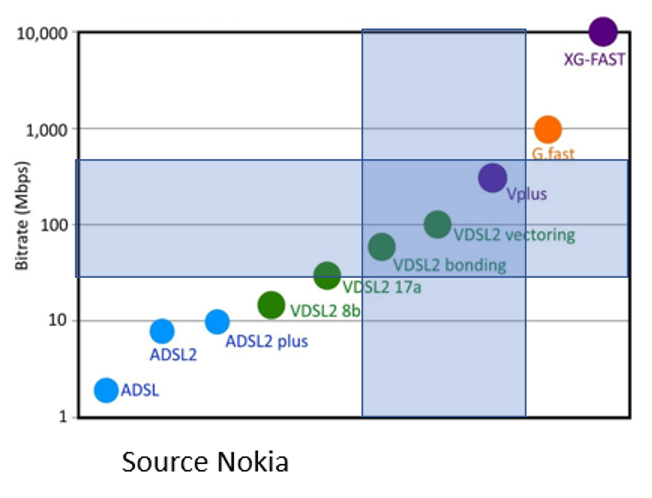 TV services for KPN iTV are mainly distributed in multicast. The threshold for providing the 4K TV package is 100 Mbit/s for the subscriber line speed, allowing more than one TV receiver and other services like internet and telephony. During UEFA 2020 trial, however, we experimentally lowered this threshold to 37 Mbit/s. This bandwidth resulted in an 89% reach for the 4K signal. Additionally, we simulcasted the signal in a lower bandwidth in Full HD and HDR. We allowed users with the right type of receiver but insufficient bandwidth to still experience Ultra HD.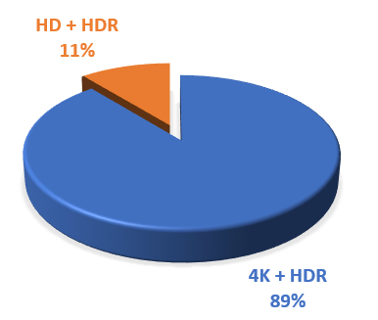 NPO1 Ultra HD
NPO is the public broadcaster in the Netherlands. During UEFA Euro 2020, NPO created a separate version of its primary NPO1 service: NPO1 Ultra HD.
The standard NPO1 HD signal was upconverted to 2160p50. The UEFA Ultra HD signal was inserted during live matches. Due to the experimental character of the project, this was done manually.
The Ultra HD signal contribution was provided over satellite, but there was a changeover to fibre during the project, reducing the end-to-end latency.
The signal was Hybrid Log Gamma (HLG) end had Rec. 2020 colour. The signal carried both stereo and Dolby Digital 5.1 audio.
The signal was distributed to end users via Satellite (Canal Digitaal), IP TV (KPN), and cable (Vodafone Ziggo, SKV Veendam, SKP Pijnacker, Kabeltex and probably more)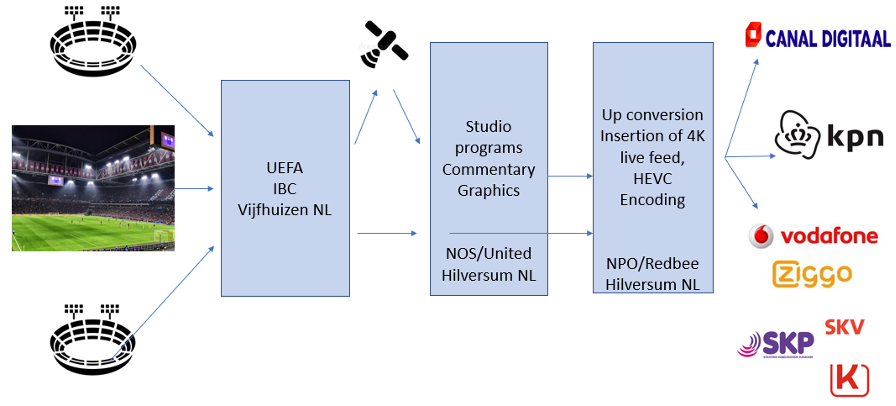 Simulcast of 2160p50 and 1080p50
The incoming 2160p50 signal in HEVC 25 Mbit/s was transcoded to 1080p50, using a bit rate of 7 Mbit/s in the KPN generic encoding platform to create the simulcast.
The UEFA signal lacked extreme colour and brightness, so judging the resulting image quality was hard. Some customers commenting on the signal claimed only modest improvement of the 1080p signal over the HD in 1080i in perceived quality. The native progressive video, however, gave a more stable movement and had no line flicker. The cause for the lack of colour could lie in errors in the settings of the rec 2020 and rec 709 colour spaces, but this was not investigated. More testing is required to optimize the transcoding. But due to the fast growth of transmission capacity, simulcasting will not become a requirement for KPN to reach a broad audience.
Testing and operations
For this experimental project, end-to-end testing was only carried out the week before the event's start. Testing time was limited, and there was a shortage of Ultra HD test content with native HDR. Most testing had to be done with upconverted HD signals.
A breakdown of the contribution feed during one of the most-watched matches of the Dutch team produced a frozen quadrant during a goal of the Dutch team—unfortunate timing. Luckily the cause of the errors was found in the days after the breakdown and corrected.
Quality of the production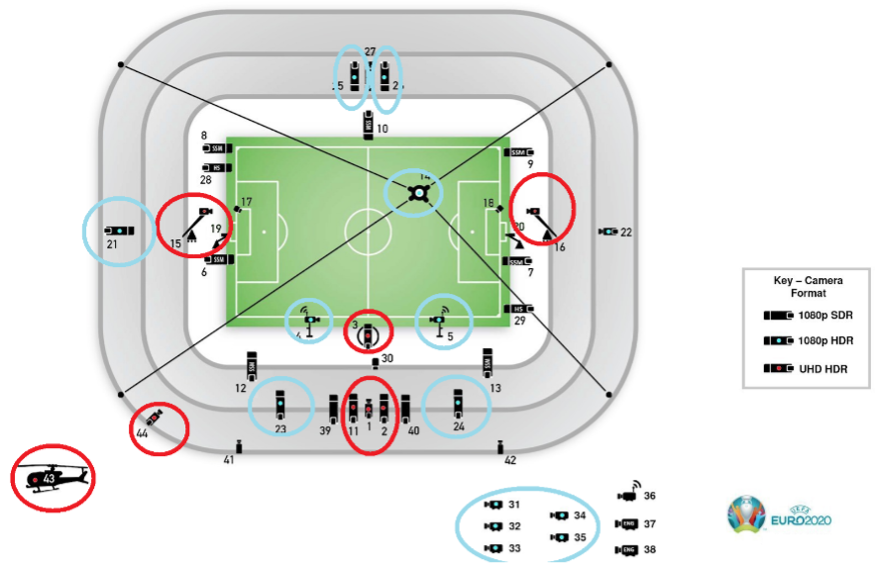 UEFA had to make uniform Ultra HD signals in all stadiums in many countries. I fully respect the complexity of this production challenge and applaud that it was solved.
The approach to unifying the look and feel of images created in very different conditions in the old world of Rec.709 SDR needs to be adapted to today's rec 2020 colour space and HDR. There is an issue of artistic intent now that we can appreciate different shades of green and maybe see clots of earth on some pitches, while others actually are of the usual lush uniform green. Producers will need to find a new balance between reality and what viewers are used to and expect.
But in my personal opinion, the signal itself should have been better. During sunny daytime matches, the image was too dark in shaded areas of the field.
I would have wanted the signal to have livelier contrast (have a better HDR Gain), be more colourful, and be more natural in its colour. And especially during daytime matches, have a black level shading adapted for HDR viewers.
Compared to the FIFA 2018 Ultra HD broadcast, the quality during the UEFA 2020 event in the living room seemed less lively.
Customer responses
On the KPN forum, customers could share their experiences.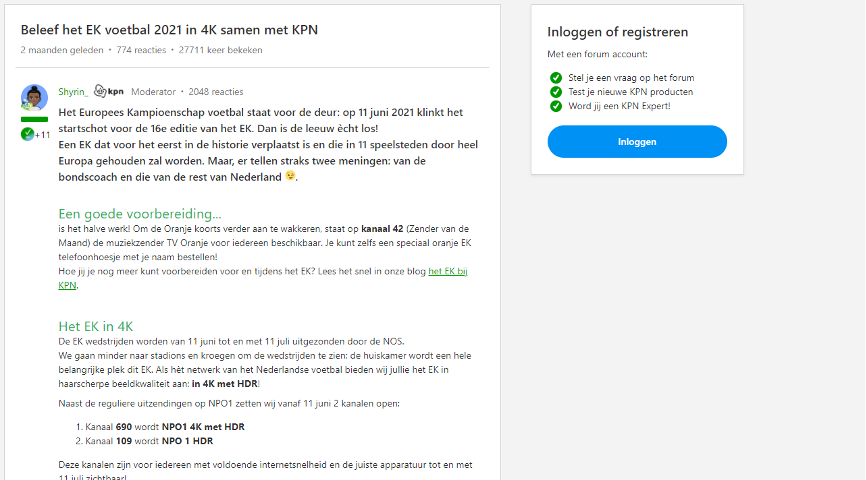 On the forum, 774 reactions were logged in total.
About 50 reactions could be traced back to issues with the equipment used by customers.
Twenty-two responded with very good or excellent.
Seven respondents perceived the quality as worse than the standard HD broadcast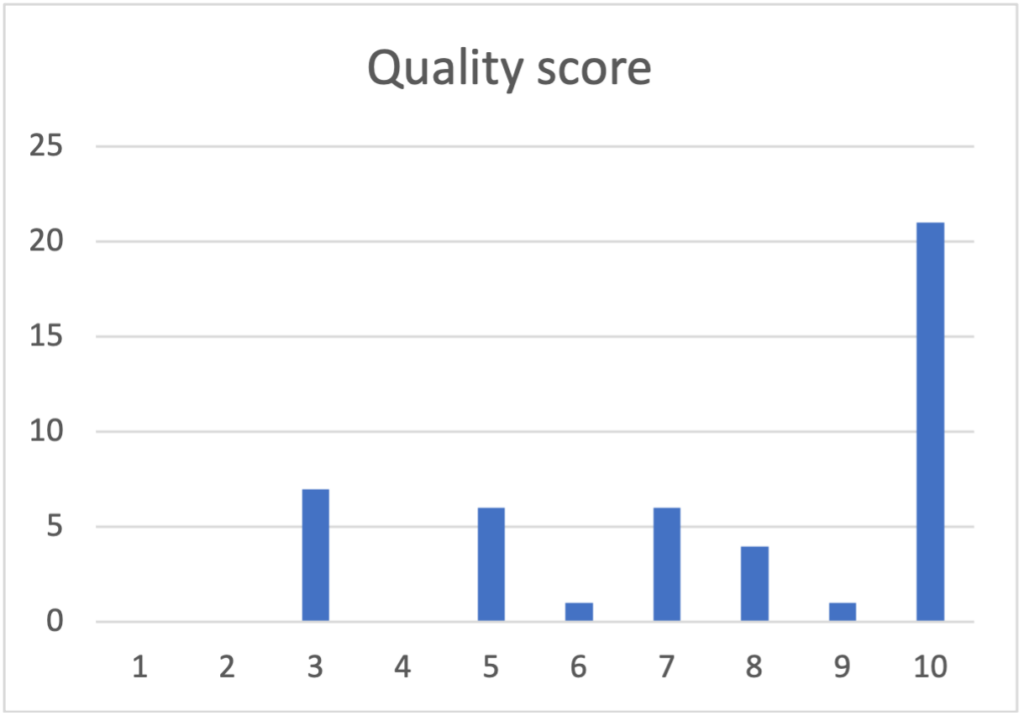 Many customers had to adjust their TV sets to get acceptable quality.
Many customers experienced dark images during daytime matches or experienced "grey", "foggy", or "pale" video.
The cause of this "fog" problem is not completely clear. The lack of HDR gain and extreme colour usage in the production makes it hard to rule out a wrong setting in the TV sets. SDR, HLG and HDR10 settings could be mixed up.
Some customers claimed that the HDR reproduction of Netflix in HDR was ok via their KPN receiver, but UEFA 2020 was foggy (claiming: My TV set is not the problem!).
Professionals with calibrated TV sets did not seem to experience the "fog" problem.
There were many responses to the missing graphics during the tournament's first two days. This omission was corrected on the third day of the tournament.
The quality of Ultra HD in living rooms still varies widely. On the one hand, the HDMI interface is complicated. On the other hand, TV set settings can be complicated to understand and change.
The way forward is to have more Ultra HD content available regularly in broadcasts instead of having a few hours of Ultra HD every two years. Otherwise, it feels like we are starting from scratch each time.
The end-to-end delay of the various versions of the live matches was annoying for some viewers. Hearing the neighbours cheer while you are still watching the pass leading to a goal was reason enough, for some, to switch back to the HD version.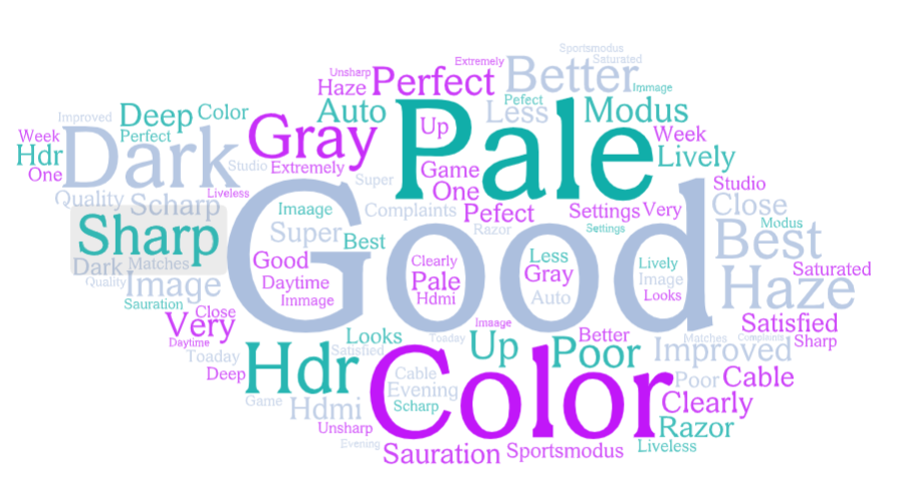 Conclusion
The Experimental broadcast of NPO1 Ultra HD with upscaled HD, combined with live football in native 4K Ultra HD during the UEFA 2020 championships, was successful. The signal was widely distributed over Satellite, IP TV and Cable.
KPN experimented with new bandwidth limits in its network and simulcasted the signal in Full HD with HDR maximizing reach.
Most respondents to our viewer survey claimed the signal to be very good or excellent. This response gives us hope that we are heading in the right direction with Ultra HD. However, the issue of "grey" or "foggy" images in some households still need to be addressed.
I have enjoyed working on this project. Working on this, I experienced positive energy and motivation with my colleagues and the people across the value chain. It was exciting and valuable to have an open channel for feedback via the KPN Forum during the project.
I still firmly believe that Ultra HD is the future format for all TV broadcasts.
References
The Trials and Tribulations of Distributing the Eurovision Song Contest 2021 with Dolby Atmos, Dolf Schinkel KPN. Ultra HD Forum: https://ultrahdforum.org/the-trials-and-tribulations-of-distributing-the-eurovision-song-contest-2021-with-dolby-atmos/
SVG Europe uefa-euro-2020-the-host-broadcast-facts-and-figures https://www.svgeurope.org/blog/headlines/uefa-euro-2020-the-host-broadcast-facts-and-figures-for-the-tv-coverage-of-europes-biggest-football-show/
KPN forum (in Dutch) https://forum.kpn.com/interactieve-tv-11/beleef-het-ek-voetbal-2021-in-4k-samen-met-kpn-541880
NPO article (in Dutch) https://nos.nl/artikel/2384547-grotere-en-scherpere-tv-s-in-huis-maar-ek-in-hoogste-beeldkwaliteit-vaak-nog-onbereikbaar