+ + + For Immediate Release + + +
The forum's IBC 2022 booth is in Hall 10 D46
AMSTERDAM, – September 06, 2022 – The Ultra HD Forum brings together broadcasters, service providers, consumer electronics manufacturers, and technology vendors to accelerate Ultra HD television deployment and today announces its IBC 2022 activities.
Six Demos
HDR Down-mapping and Matching supported by BBC, B<>COM, Comcast NBCUniversal, and LGE. Content showing various HDR/SDR conversions.
HDR Color Management supported by LGE. Interoperability challenges for displaying HDR-based content.
SDR Rendering Compensation supported by BBC, Comcast NBCUniversal, and LGE. Shows results of applying the BBC and NBCU compensation LUTs to match different peak brightness of displays.
Live Audio Production using Serialized ADM supported by ATEME and Dolby. End-to-end use of S-ADM for producing live audio components over IP.
Live & Low Latency Streaming with VVC supported by ATEME, KPN, LGE, and MediaTek. Live encoding undertaken off-site is made available via DASH over Fibre Internet connection to local router/end devices.
Multiscreen OTT with CAE & Low Latency supported by Brightcove, Dolby, Harmonic, and KPN. Ultra HD OTT interoperability on multiple device types, featuring HDR10 and Dolby Vision.
Conference Participation
Sandbox testing of HDR, WCG, NGA, higher resolutions, and frame rates over SMPTE ST 2110. Chair Bill Redmann will represent the Ultra HD Forum IP Production user group during the IP Showcase in room 13.G102, at 14:00 on September 10.
Industry Initiatives
Among its multiple activities, the Forum will show some of the work previewed at NAB in an ongoing initiative around a critical industry pain point: HDR and SDR interoperability. This work is demonstrated through SDR production and rendering techniques, including compensation for peak display luminance. In partnership with DTG, Ultra HD Forum has been conducting OTT interoperability tests on multiple device types with various NGA and HDR format combinations. Some combinations of these will be demonstrated.
Industry Guidelines
The comprehensive V2.6, released at NAB 2022, includes a new annex on NGA Production workflow tools and real-world examples, updated to color accuracy in converting between SDR/HDR and HDR/SDR, and an update to Brazil's next-generation broadcast technologies. The new version also includes essential information on single stream HDR/SDR workflows from Comcast NBCUniversal and an improved definition of HDR. Many updates throughout the document include IP production technologies, UHD terrestrial broadcasting, NGA audio trials, etc.
Update to the Ultra HD Service Tracker
Covid-related lockdowns may have slowed the uptake of new services, but the Forum is pleased to note that new Ultra HD services are regularly being launched. The latest version of the tracker will go live at the start of IBC, showing significant take-up of ATSC3.0 in the US, among others.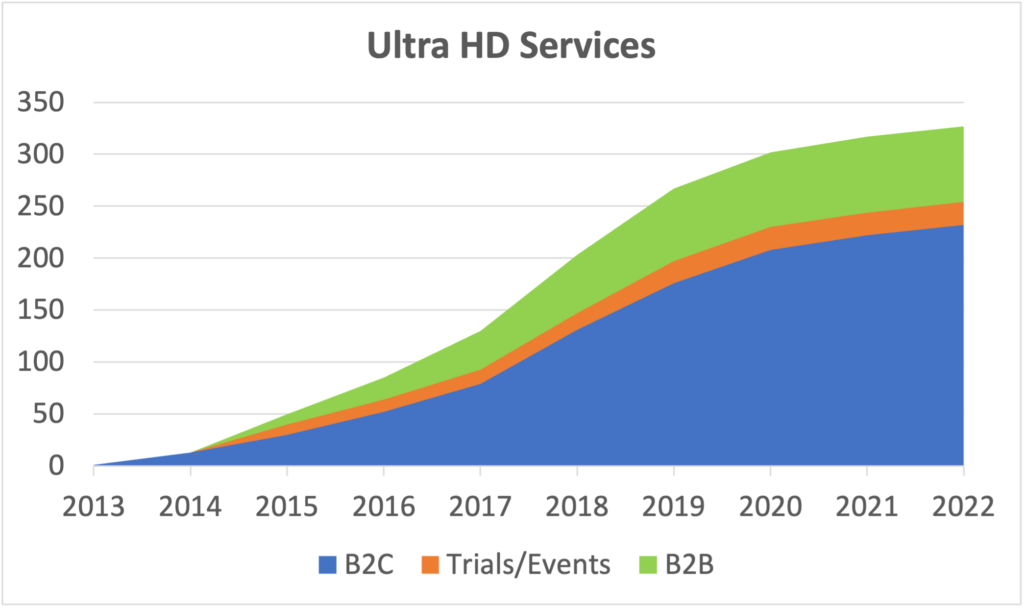 The Forum's updated UHD Service Tracker can be accessed at https://ultrahdforum.org/uhd-service-tracker/. There are also several in-depth analysis blogs on the website.
The forum's IBC 2022 booth is in Hall 10 D46.
Press enquiries: marta@wolfpackcoms.com +31 6 21 18 45 85