Early live Ultra HD transmissions, including HDR, have been at the bleeding edge for over five years. One unfortunate side effect has often resulted in subpar SDR for consumers that didn't have access to an HDR-capable set. With global events that include dozens of cameras and complex workflows, it is not commercially viable to maintain separate glass-to-glass SDR and HDR streams.
NBCU's Chris Seeger recently gave a talk at EBU's HDR workshop on the latest approaches to Single Stream HDR-SDR Production and Transmission that relies heavily on Look Up Tables (LUTs).
For context, some of the milestones in NBCU's live Ultra HD HDR journey include:
2015: NYC July 4th Fireworks
2016: RIO Olympics Opening Ceremonies
2018: Pyeongchang Winter Olympics, Men's FIFA 2018–2021: Notre Dame Football Seasons
2020 US Open Golf
2021 Chicago Basketball, Baseball
2021 Tokyo Olympics
2022 Beijing Olympics
Concerning the latter two, Seeger explains that Single Stream production was set up to feed both UHD HDR and SDR transmission simultaneously.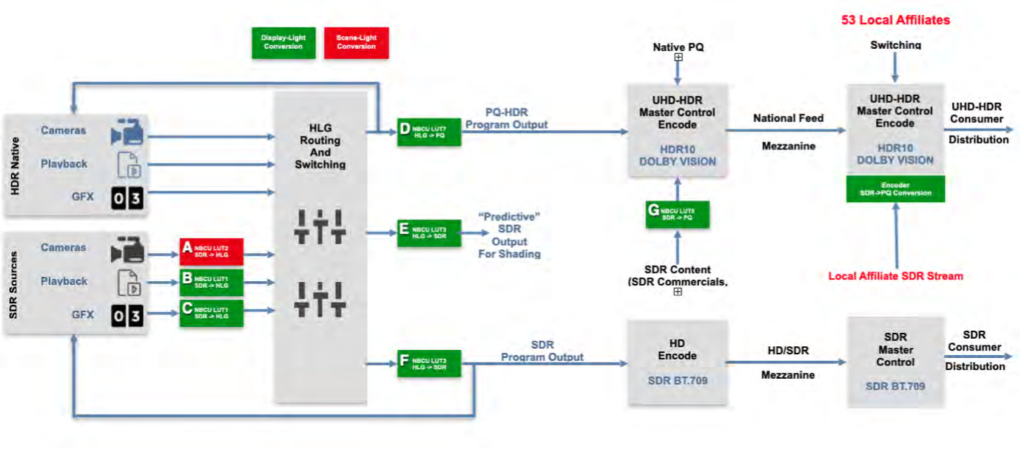 NBCU set up this workflow in collaboration with Cromorama. This work builds on ITU working group discussions for HDR operational practices that involve many parties, including Dolby, the BBC, and Philips. The group develops techniques to simultaneously feed UHD HDR and SDR transmission using a Single Stream production.
NBCU has developed LUTs for this single-stream production workflow whereby the HDR and SDR products are consistent to the point where the benefits of HDR are realized, making a unified production possible. NBCU is sharing these efforts with the broadcast community for continued collaboration and use in production and distribution.
The NBCU LUTs include HLG and PQ LUTs following similar HDR/SDR conversion methodology and color science.
Chris provided some of the critical parameters used in fine-tuning these LUTs.
The HDR reference display is normalized @ 1000 cd/m2 peak, and the SDR reference display uses the BT.1886 EOTF with Lw = 203 cd/m2 BT.2129-Production and the mastering display set to 203 cd/m2. Finally, SDR Graphics White = SDR Mid-Gray. This method prevents eye adaptation by establishing anchor points between SDR and HDR displays. HDR images match SDR (minus differences in highlights, some shadow detail, and color space).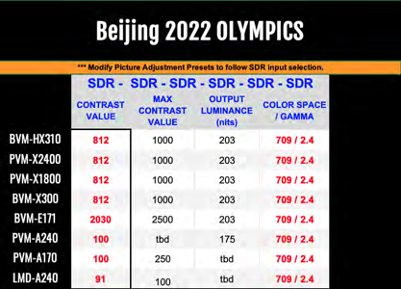 NBCU UHD Single Stream SDR Display Settings follow ITU-R BT.2129, using a Flat Panel Display as a Master monitor in an HDTV program production environment.
This setup allows mastering display luminance to be adjusted from 100 cd/m2 to 250 cd/m2.
NBCU optimized for a suitable match based on compatibility with native HDR and more typical lighting conditions in production trucks and homes (not CRT reference conditions). Further study is in progress here, gathering production truck and home levels.
As standard practices, NBCU uses MovieLabs recommended scaling factor of 2.0, documented in BT.2408 for its LUTs. This "provides a good match to the way displays show SDR content in home cinema viewing modes".
NBCU, OBS, and HBS (in collaboration with Cromorama) use this approach.
In the end, NBCU's SDR to HDR content will present a familiar experience for the consumer by placing scaled SDR in an HDR container that intercuts well with the native HDR production.
Seeger gave several examples of their LUTs for SDR to HDR Conversion, one of which is illustrated below.

Chris pointed out some alternative methods.
This method perceptibly simulates 100 cd/m2-shaded shadows and mid-tones during SDR-to-HDR conversion while retaining a 200 nit peak during SDR-to-HDR conversion. Seeger further noted that:
The darker shadows and mid-tones with SDR-to-HDR conversion can influence shaders to make HDR-native content with lower luminance for intercutting with pre-produced SDR-native content (graphics and archived content) to work well in the native HDR production.
Conversely, this method of HDR-to-SDR conversion creates SDR shadows and mid-tones that are higher, lowering the video signal-to-noise ratio (higher noise level). In our previous productions, this reduced the compression quality in some scenes (MPEG2 is used in many US channels).
As most viewers still watch live sports in SDR, the closing remark of the NBCU presentation was that as we learn to use HDR, we must 'do no HARM to the SDR!'
NBCU commits to industry collaboration and would like to encourage consistent media exchange, and are willing to provide the NBCU LUTs freely. Seeger pointed out that the NBCU LUTs are provided with no warranties on an 'as is' basis.
The package of NBCU LUTs with additional documentation is available on Github at:
https://github.com/digitaltvguy/NBCU-HDR-SDR-Single-Stream_Workflow_Recommendation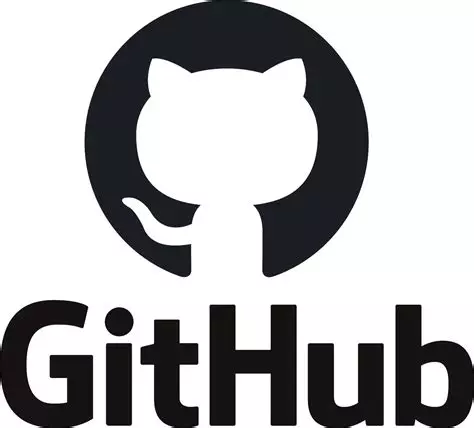 NBCU ask that manufacturers include an acknowledgment in their license to their customers that the LUTs were 'developed by NBC Universal Media, LLC.'
Chris Seeger's presentation at EBU's HDR workshop had lots more detail. He and Michael Drazin are happy to answer questions about this effort and provide further insight into the workflow. Chris Seeger Chris.Seeger@nbcuni.com, Michael Drazin michael.drazin@nbcuni.com.