The Ultra HD Forum booth at NAB17 demonstrated Ultra HD and particularly HDR technologies that are deployable today. For the Forum, HDR has indeed now matured to the point where live services can be deployed with today's production technology. The forum also demonstrated several developing technologies that will mature in the next 12 to 18 months to further build on today's technology and enhance the customer experience in video.
The Forum has been working on its UHD guidelines since 2015. The current version (1.4) focuses on what we term "Phase A" technologies that are available to deploy in 2016/2017. These can also be what standards organisations refer to as "Phase 1". Phase A covers 4K resolution at 50 or 60fps, HDR based on static metadata or HLG, with Wide Color Gamut, and multichannel sound solutions. Future Phase B technologies include further developments in HDR to include Dynamic Metadata, High Frame Rate (>100fps) and object audio based solutions such as AC4, DTS-X and MPEG-H.
The booth had five thematic Pods and this is the fourth of five blogs about those Pods and their demos. I'll describe the lessons we learned and how the demos were received at NAB17.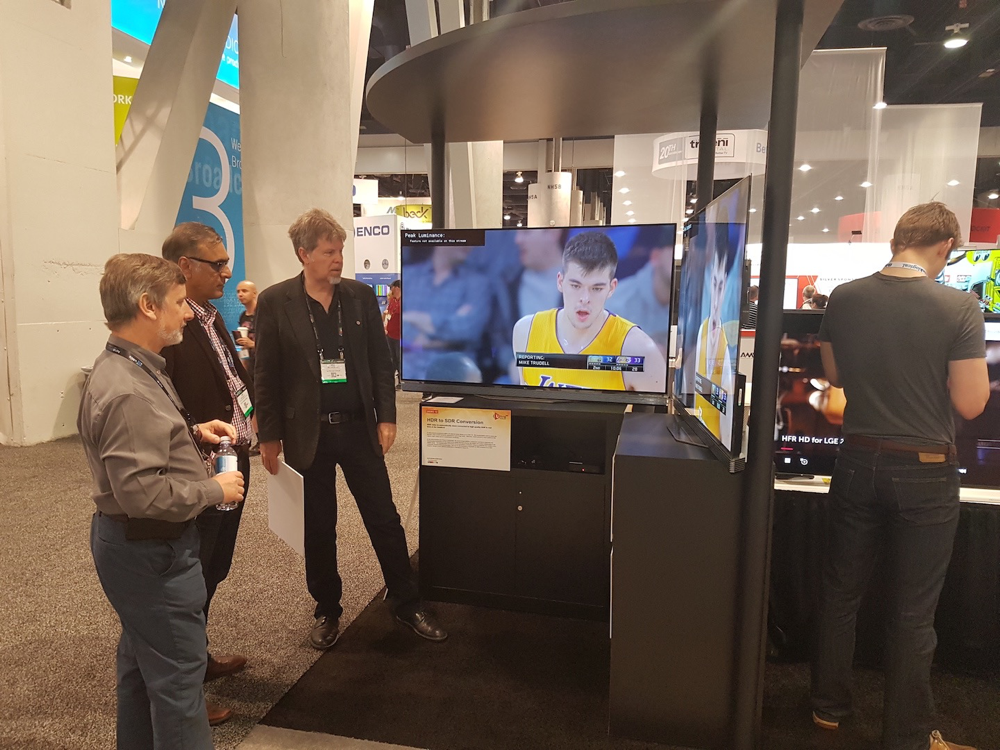 HDR and SDR Improvements
The fourth pod was focused on HDR and SDR Improvements, a demo produced by Technicolor based on the collection of technologies that they refer to as Advanced HDR (including SL-HDR1). The demo comprised a mix of HDR and SDR camera feeds where the SDR contributions were up-converted to HDR and mixed with the HDR feeds prior to transmission. The transmission HDR video was processed using Technicolor's technologies to create an SDR feed with an additional stream of metadata that represents the tone mapping required to convert the SDR content back to HDR. This SDR feed with metadata was passed through transmission and presented to two TVs, one SDR without Technicolor's technology and one HDR connected to an STB that included the Technicolor technology to recreate the HDR picture. The SDR based display rendered correctly the SDR video to its best capability, and the STB connected to the HDR display recreated the HDR content by reversing the SDR tone mapping.
The key aspect of this demo was in showing alternative approaches to broadcasting HDR and SDR using a single feed to a display population and showing how you can combine as a HDR stream, multiple sources of content dynamically and in real time. The technologies upon which the demo was based are a mix of Phase A and future Phase B, to provide an improved delivery of video to all displays.
Our next blog will look at the fifth and final demonstration pod… a look into the near future with HFR.