The Ultra HD Forum booth at NAB17 demonstrated Ultra HD and particularly HDR technologies that are deployable today. For the Forum, HDR has indeed now matured to the point where live services can be deployed with today's production technology. The forum also demonstrated several developing technologies that will mature in the next 12 to 18 months to further build on today's technology and enhance the customer experience in video.
The Forum has been working on its UHD guidelines since 2015. The current version (1.4) focuses on what we term "Phase A" technologies that are available to deploy in 2016/2017. These can also be what standards organisations refer to as "Phase 1". Phase A covers 4K resolution at 50 or 60fps, HDR based on static metadata or HLG, with Wide Color Gamut, and multichannel sound solutions. Future Phase B technologies include further developments in HDR to include Dynamic Metadata, High Frame Rate (>100fps) and object audio based solutions such as AC4, DTS-X and MPEG-H.
The booth had five thematic Pods and this is the Final of the five blogs about those Pods and their demos. I'll describe the lessons we learned and how the demos were received at NAB17.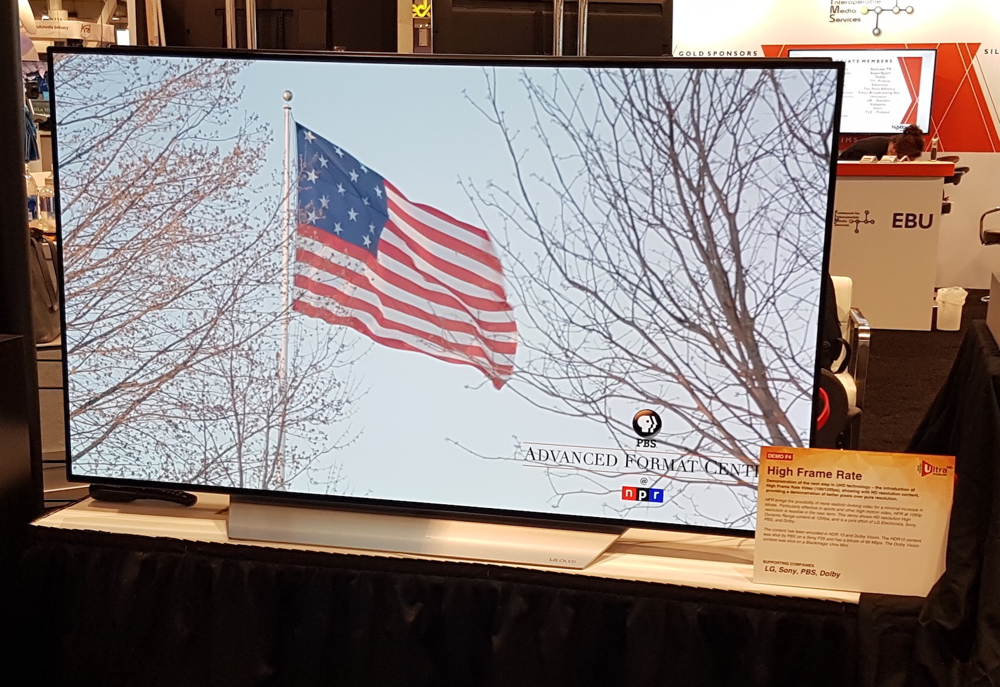 The fifth and final pod focused on the near future with a demonstration of high frame rate content playback. A range of High Frame Rate clips were produced by PBS in conjunction with LG and Sony, showing several examples of 120fps high frame rate content that demonstrated the smooth motion and flow of fast moving content.
The content demonstrated was produced in HD HDR and HFR, including a very popular US flag fluttering in the wind, fast moving martial arts fighting, and a variety of clips showing bubble movements, balloon bursting and pouring of Skittles sweets into a bowl. These pieces of content showed the flow of high frame rate at its best. Display chipsets to handle the needs of UHD resolutions in addition to HFR and HDR are in development and will become generally available in 2019. Visitors to the booth were impressed with how much high frame rate increased the realism of what was shown on the screen, a clear incremental improvement to quality that we hope consumers will see as mainstream.
This was our fifth blog about the demonstrations that the Ultra HD Forum ran on booth at NAB17. We are continuing our work within the forum on extending the Guidelines further out, particularly with regard to next generation features and on continuing our Interop work involving the full membership.
Based on the success of our NAB17 Demonstrations, we are also demonstrating further UHD demos at IBC in Amsterdam between the 15th and 19th September as part of the EBU Booth in 10.F20. Look out for further details.