One-third UHD production
The chart below represents the amount hours of content produced by OBS during the Tokyo Olympics. By comparison, all productions by HBS at the 2022 FIFA World Cup were Ultra HD; as a reference, our service tracker currently shows that 57% of tracked (Ultra HD services offer HDR, note that the service tracker looks at the distribution side, not the production side  As a reference, in the VOD world, we see 17% of large SVOD assets  (Netflix, Amazon) are in HDR format.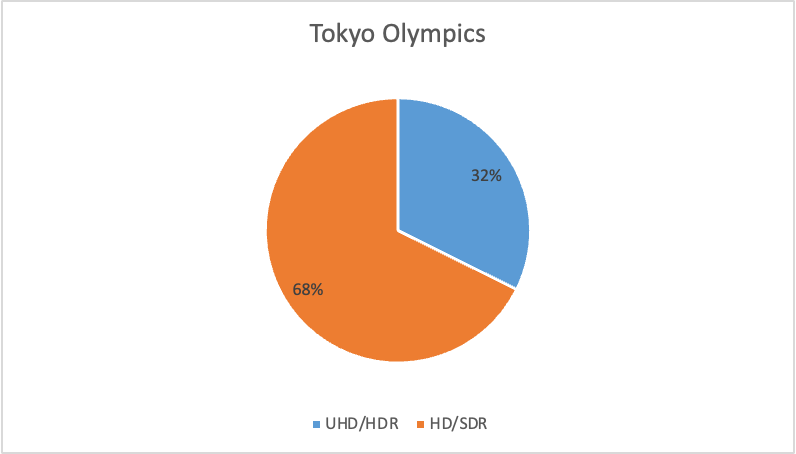 UHD services
There were 24 services for the Beijing Olympics in Ultra HD, a much higher number than for the Rio'16 Olympics.
This represents 7% of the 300+ UHD deployed and tracked by the service tracker, so there is definitely room to grow.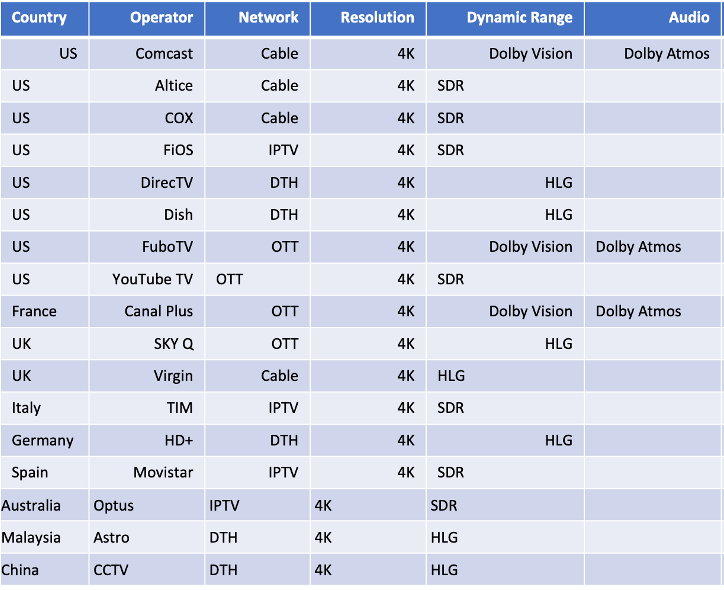 Network analysis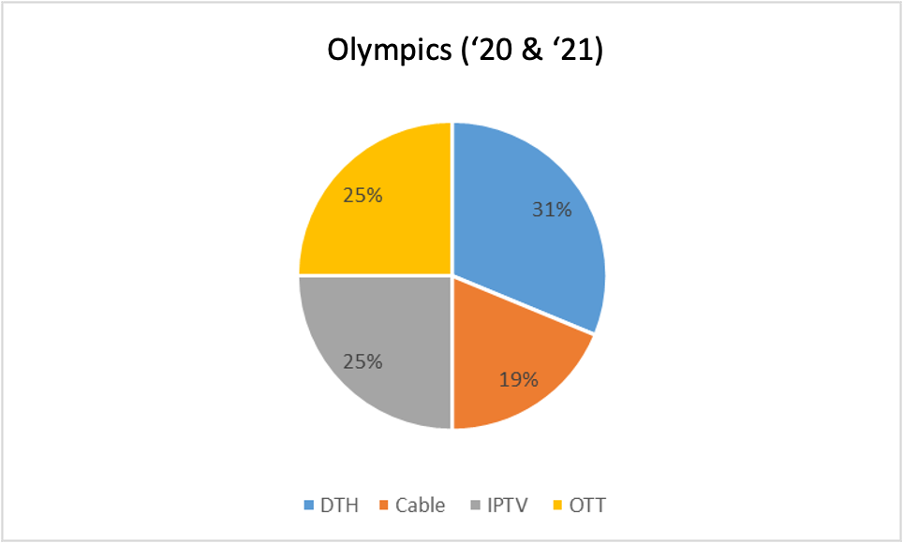 The chart above shows the distribution technology for the 17 services carrying Ultra HD from the Olympics. As a comparison, the one below shows a similar distribution as in the service tracker,  We see a similar (balanced) split across all types of network distribution.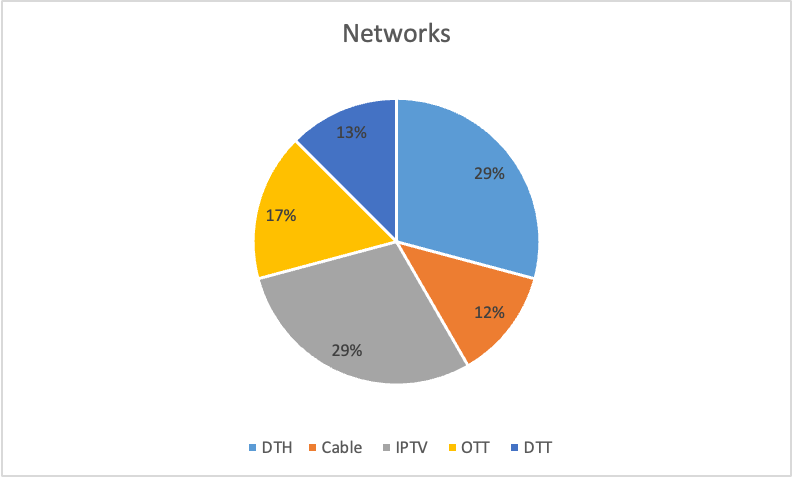 HLG dominated HDR in terms of distributors
HLG is the dominant HDR format used with 33%, with 42% SDR still very present, and 57% in the service tracker.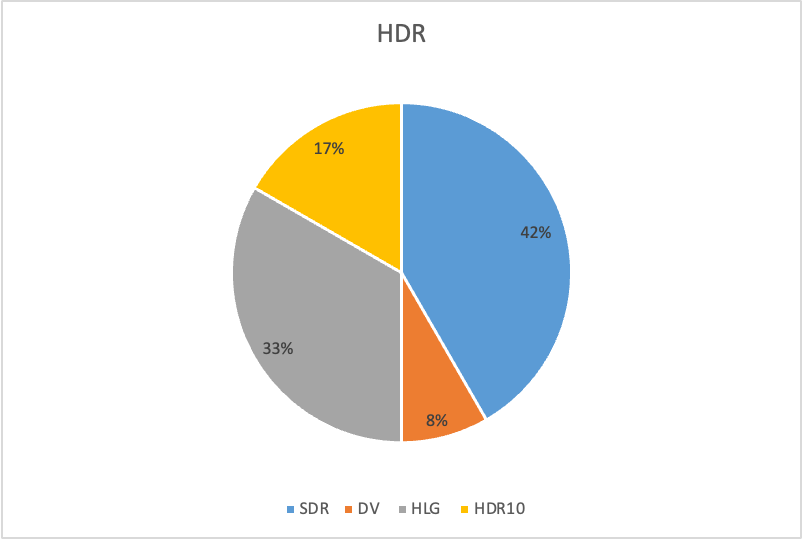 Note that in the service tracker, the proportion of SDR is constantly shrinking, as you can see below.

A small minority could listen to the Olympics with NextGen Audio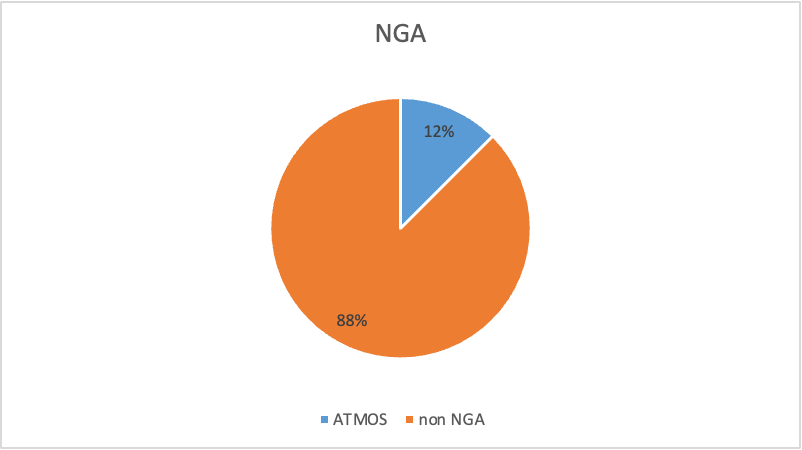 This figure shows a 13%  NGA audio compared to the 29% in the service tracker.
Some quick findings
Despite this data showing a substantial increase in coverage compared to the Rio'16 Olympics, it nevertheless represents a 30% decrease compared to the Euro'20 Ultra HD coverage (in terms of services). But as we've said in other analyses, this may be due to the greater Ultra HD penetration in Europe. Soccer is proving to be a superior global driver of Ultra HD technologies. Indeed, we will be covering the 2022 FIFA World Cup, where I can already say that over 50 active services were carrying Ultra HD.
There was a massive investment in UHD production for these games. Despite the limited reach, NHK broadcast in live 8K for the first time through its DTH service and several 8K experiments with Intel and Globo were made with OTT.
If we look at our key metrics: networks type, HDR and NGA, and compare them to the service tracker, we see a similar distribution network split, SDR is at a lower percentage, HLG is at a higher percentage, while NGA is at a lower percentage.
As soon as the dust settles, we'll be able to compare in more detail with the 2022 World Cup and then with the Paris Olympics '24. The latter is expected to set a new benchmark, with France TV announcing that its flagship France 2 channel will go Ultra HD for the occasion and stay that way after the games.
Our analysis shows that a critical mass of TVs is now ready to consume Ultra HD (at least one of HDR and/or 4K as well as NGA). The base of decoding devices (BYOD OTT, Pay TV STB) is still building up. Meanwhile, we still see 44% of services only offering SDR as disappointing but are encouraged that NGA seems ready to continue its growth.
Stay tuned for an update in newsletter 4 covering the 2022 FIFA World Cup in 2023.