As with previous newsletters, in this article, we explore the experience of one of our members. We talk to Dolby about their learnings from using their technology during the Tokyo and Beijing Olympics.
The Covid-induced lockdowns have plagued our industry, but there was a beneficial side effect for once. The extra year allowed NBCU to implement a complete Dolby Vision workflow in Tokyo and Beijing, despite this not having been initially planned. Note that the same workflow was used for both events.
Jean-Christophe Morizur told me, "Dolby started working with operators on trials for many years. With NBCU, this started in early preparations for the Rio games". He continued, "the breakthrough at these games with NBCU is the combination of ' Vision' [which is Dolby people's unashamed way of referring to 'Dolby Vision'], the first half of a magical experience, while Atmos represents the other half. The best part is that millions of viewers experienced this in real-time".
The Olympics games offered the first chance ever for large-scale audiences to experience Dolby Vision and Atmos together during a live event. Until then, only Proofs-of-Concept and trials had been available for live broadcasts. An excellent example of one of these recent trials is KPN's 2021 Dolby Atmos user trial during the Eurovision Song Contest we covered here. A good indicator that NBCU fielded a genuine service and not another user test can be seen in the autotune feature on compatible devices, taking users automatically to the UHD stream even if the HD version is being viewed.
In this project with NBCU for the Olympic games, Dolby learned much with a genuinely complex workflow shown in simplified form in the diagrams below.
The widespread use of Dolby's technologies is now a market reality in the VoD space, with over 6k Dolby Vision and 4k Atmos titles present on various platforms. So, this was a new step into live sports. Jean-Christophe cautioned that, unlike with VoD, live content is still accessible mainly to larger operators with an R&D capacity. He sees the required learning curve dropping rapidly as the video technologies and accompanying tools mature in the next few short years. He pointed out that on the Atmos side, all Champions League matches now use Atmos and that immersive audio is integrated into almost all 4K-capable OB trucks.
"These games validated Atmos and Vision's added value for consumers and operators alike on the most premium content formats. It's all about getting the results to look their best possible on any TV and AV setup with a faithful reproduction of colors and immersive sound together".
Dolby does not participate in setting up the video production workflow but advises on how to do so. From the Vision perspective, it's about including file-based metadata done scene by scene in real-time. Some creative decisions must be made upfront to attain an operator's desired look & feel in a live context. Morizur insisted that 'Vision' is simple to integrate with a single point of contact at the encoder level. In live situations like the Olympic games, "Live Vision" is used through an SDK that encoders call to insert the correct metadata in real-time at the final point of encoding. Dolby's position here is different from file-based production, where the company is usually more active, for example, with grading solutions.
The diagrams below offer some examples of such workflows. Morizur explained that a significant effort was invested in setting up the Ultra HD production to get the HDR right. Our other article about NBCU's Single Stream LUT-based approach explains [LINK] how the operator derives the best possible SDR quality from the HDR.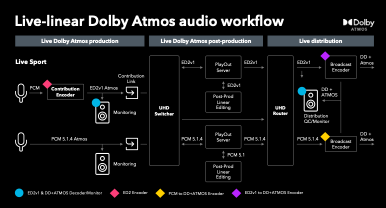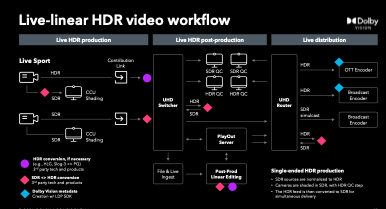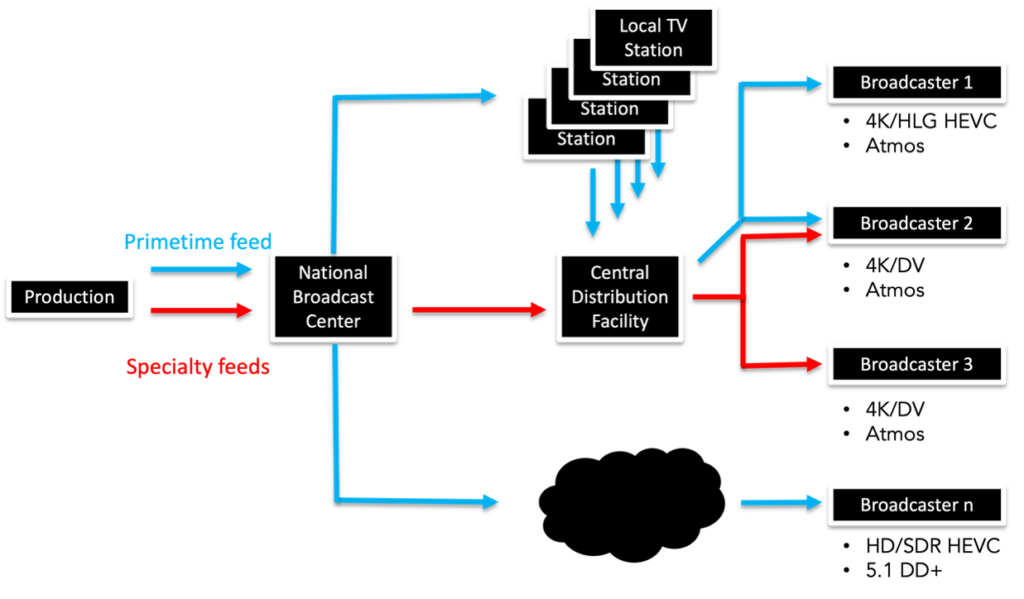 One prime-time national stream and several specialty channels are created
The national feeds are sent to dozens of local stations
High bandwidth is used to transport contribution streams throughout
Local content is inserted by stations with up-mapping used on HD content (typically, news and ads are localized)
All streams pass through a central location for final processing
Central location finalizes distribution feed, ready for broadcast or streaming
On a closing note, we're genuinely excited at the Forum to see the large-scale use of live Ultra HD technologies. We're eager to get some formal user feedback on the experience of American viewers.
On the business model side, once specialized production companies like HBS and OBS offer these technologies, an operator will have minimal extra cost. Only their encoder does a modest amount of extra work. All operators taking the new feeds would share any additional production costs. Redistribution would be relatively straightforward.
It remains to be seen whether rights holders will try to leverage the latest dynamic metadata HDR solutions like Dolby Vision and immersive audio to create specific rights.