The 2021 French Open was shown with some UHD component technologies by at least 16 commercial services that we counted, representing a 100% increase over last year.
The tally of services was provided by Harmonic and Yoeri Geutskens (@UHD4K).
The proportion of HDR operators decreased with examples such as Sky Sports using only SDR, unlike in previous years.
However, we noted a marked increase in NGA use, as pointed out by Mickaël below.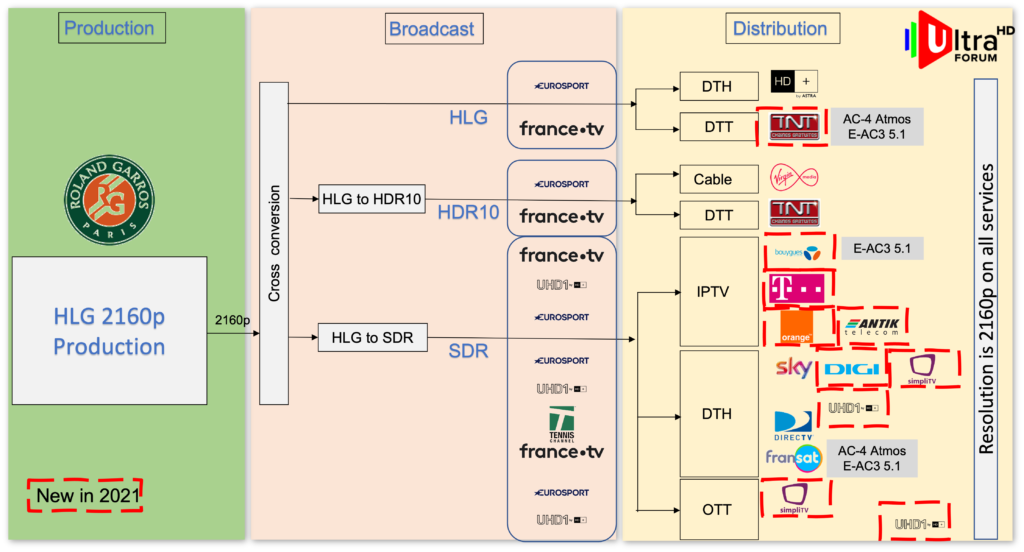 70% of channels carrying the competition were either OTT or IPTV.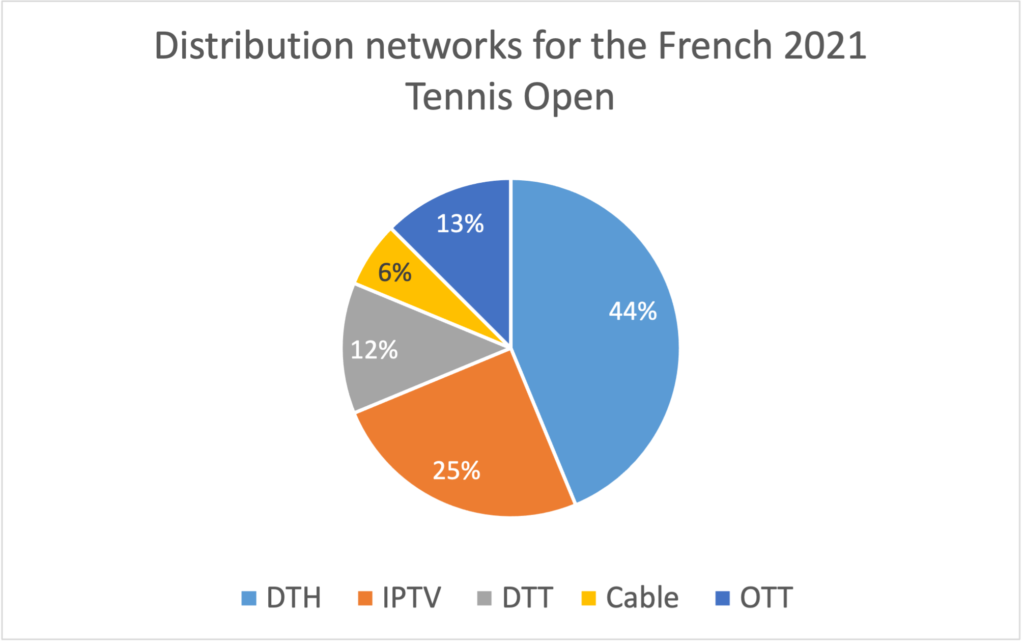 Mickaël Raulet from Ateme gave us the following update: "In this year's French Tennis open, the NextGen Audio progressed significantly. Otherwise, it was mainly about experimenting with the future DVDB-T2 broadcast system. Two live TV channels were used, one with HLG and the other with HDR10, and this year, there was no significant negative feedback. I saw that broadcasters preferred HDR10 that either works or doesn't, which seems more straightforward from a customer experience and support point of view. HLG, on the other hand, always delivers a picture but not consistently well, leading to more challenging situations to evaluate and remedy where needed.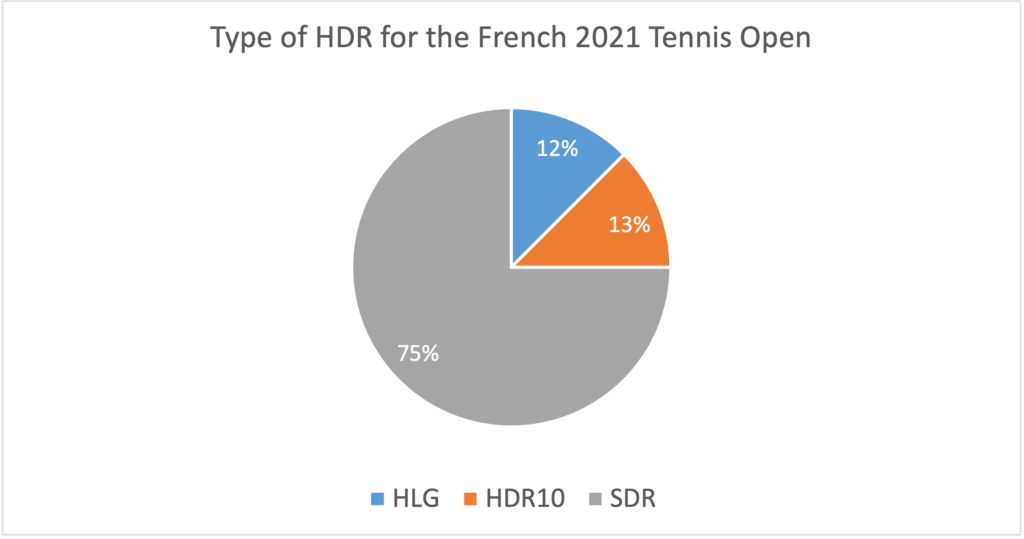 The French broadcast community has not significantly moved to HDR except for Canal+ and Discovery. FranSat has even stopped due to the heterogeneity of the installed base of HDR TVs. TF1, the leading private broadcaster, has not yet started, while France TV, the public broadcaster, is only active in experimentation. This year though, France TV did ask for 4K resolution in all experimental channels, unlike previous years, and it seems clear that the French public broadcaster is getting ready for a full UHD service for the Paris Olympics, scheduled for 2024."
UHD Phase 1 TVs can still often only support rec 709. There is still work needed on how TVs behave when receiving HLG signals with only rec 709 capacities. The Ultra HD Forum Interop group is working on this.
Because of Covid, fewer engineers were on-site in Paris, which may be part of the reason that HDR experimentation by National and international broadcasters seemed muted compared to previous years.
Cognac Jay operated a full service including UHD this year. In previous editions, UHD components were more often lab-based add-ons to an otherwise operator-grade delivery.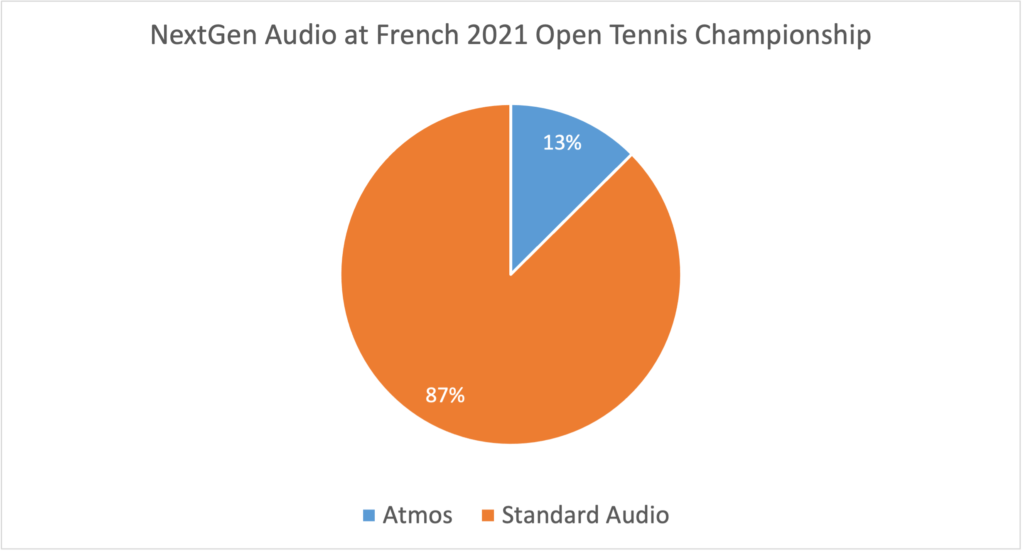 France TV pushed for immersive audio using AC4 this year. The channel setup was 5.1.4, with a commentary track as an audio object. Automatic switching to ads in plain vanilla stereo was a critical part of experimentation and worked well. Dolby used the EBU's SADM standard with some limitations due to limitations in a few TV UIs. Atmos to stereo and back switching worked.
NRJ's Christophe Cornillet noted, "France TV gave a great demonstration of what could be delivered OTA. The two demo channels (number 81 in HDR10 and 82 in HLG) used 2160p resolution. I'm lucky enough to be within reach of the Tour Eiffel, which was one of three French DVB-T test sites managed by TDF." Thanks to the NRJ TV teams, Christophe did some informal tests comparing the HLG and HDR10 versions. "The differences in both luma and chroma were not wholly unexpected, but what was most frustrating was that my tweaks to the TV controls to get a good image with the HLG feed were different from those required for an excellent experience with HLG. The HDR part still needs to be interpreted." We told him that his observation is very much in line with what the Forum is working on with "Operator mode." He concurred that some form of standardization is needed. Indeed, there are shorter-term issues in production workflow where UHD/HDR downscale to HD/SDR needs some standardization – or at least guidelines – even in the labs.