by Guy Ducos, HDR Business Development, PHILIPS IP&S (Ultra HD Forum member by way of FAVN)
While France is working toward Terrestrial Broadcast Modernization for 2024, several French broadcasters have expressed their ambition to augment their terrestrial distribution offer with one or more HbbTV 2.0 services.
Indeed, several new opportunities can arise from this approach:
Develop new services that extend the limited capabilities of terrestrial broadcast.
Limit the investment in terrestrial broadcast to key programs so that encoding format and quality remain compatible with the available bandwidth.
Offer live programs at a higher quality than distributed over terrestrial broadcast, building on the available Internet (fiber) bandwidth widely available to end-users.
Offer new and easy-to-access interactive services to consumers.
Establish a more direct relationship with consumers and offer them differentiated services
Reinvest revenue added by these personalized services into new high-quality content and distribution formats (e.g., UHD, HDR).
Not all of these options are of interest to every broadcaster. It depends on their strategy, situation, and whether they are public or private. Still, all foresee how HbbTV 2.0 services could nicely complement a traditional terrestrial distribution.
ARTE already has several HbbTV experimental services: One provides UHD VoD in Germany, and another, in France, provides access to the ARTE.TV portal through terrestrial channel 77 or via Fransat, satellite channel 777.
Beginning August 1st, ARTE's newly launched experiment targets industry partners and TV manufacturers with a Live test stream to:
Test live switching from terrestrial broadcast to the same program on OTT but in higher quality.
Try different OTT distribution formats and bitrates with the ambition to:

Offer the best possible experience to a maximum of consumers

Determine the simplest solution to establish such a service

Rapidly stand up such a service while limiting the additional OPEX compared to a traditional SDR stream.

Generally encourage TV manufacturers to perform new tests in HbbTV 2.0.
"To start this new experimental service, we decided to build on the recent success we achieved with Philips, Ateme and Cobalt Digital which platform supports Advanced HDR by Technicolor," explains Jean Luc Wackermann, Director of Technologies & Distribution Networks at ARTE. "The equipment located in Strasbourg Central Playout, which had been distributing our experimental HDR channel for the past two years, has been reallocated and upgraded to support this new experiment".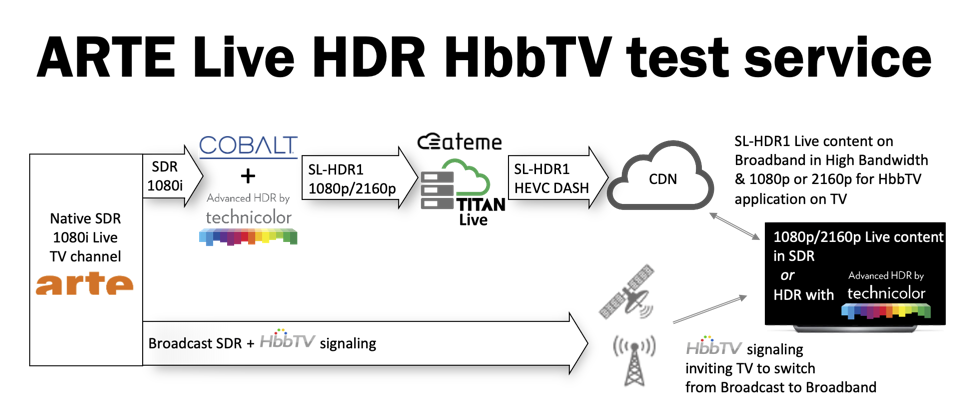 "During the first tests we performed around IBC 2018, we have appreciated the qualitative improvements offered by a video stream in 1080p, 50 fps, 10-bit HEVC at 8 Mb/s, and Advanced HDR by Technicolor solutions".
Since then, the ARTE HDR experimental channel has enabled ARTE to confirm interest in these options. However, a native HDR10 stream is problematic for some UHD TVs. In some cases, even those that are supposedly HDR-ready, the result is that the displayed HDR image is not always better than receiving an SDR stream. This predicament of already-deployed TVs requires a decision among different constraints:
Manage lists of TVs having the ability to display (or not) better images in HDR, which adds costs due to additional complexity, then limiting HDR streaming to the capable TVs and providing an SDR stream for the others, here again adding costs for simulcasts.
Use a stream that is compatible with all TVs, which is the most cost-effective and easy-to-implement solution.
This latter choice is precisely the target defined to start this new test stream. For this purpose, the stream to be distributed will use the ETSI standard "SL-HDR1" distribution format, providing an actual SDR video stream usable by any TV, but with additional dynamic metadata that enables reconstruction and optimization of the HDR images. Considering that only Advanced HDR by Technicolor TVs will perform the HDR reconstruction in line with their display capabilities, this approach will enable all TVs already deployed in the market to display a high-quality image, whether in SDR or Advanced HDR by Technicolor.
"Just as we did during the first ARTE HDR Live test in 2018, it will be possible to test other distribution formats during special test periods to be arranged with TV manufacturers who would like to make use of this test service," explains Jean Luc Wackermann.