The Ultra HD Forum's Service Tracker lists Ultra HD services available directly to consumers as well as channels that are offered as a B2B service to IPTV and cable operators for distribution to their subscribers.
The B2B channels may be delivered in various ways, and are often done by satellite, but because they use multiple different networks in order to reach their ultimate destination it doesn't make much sense to speak of a specific network delivery method.
For the B2C services however, the tracker does list these:
DTT (Digital Terrestrial Television)
DTH (Direct-to-Home satellite)
CATV (Cable Television)
IPTV (Internet Protocol Television via managed networks)
OTT ('Over The Top' streaming via unmanaged networks).
It is worth noting that some services use a combination of these networks.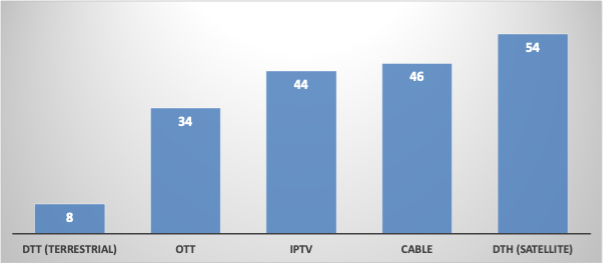 When comparing the number of services for each network. DTH proves to be the most popular with some 54 services, but the numbers for satellite, cable, IPTV and OTT are of the same order of magnitude. Terrestrial is well below and has the fewest of any category today.
It's not difficult to see why: Terrestrial broadcast spectrum is a scarce resource and is also the most mature of these distribution methods. In fact, of the eight DTT channels found, the four that purely use terrestrial only are all from South Korea: KBS UHD 1, KNN UHD, MBC and SBS Plus UHD; two launched in 2014, the others in 2017. The Korean government supported this with their deployment of ATSC 3.0 as their Next Generation TV ("NextGen TV") standard. ATSC 3.0 is more spectrally efficient and uses better compression than its predecessor, thereby enabling Ultra HD delivery.
The other Ultra HD DTT networks are found in Japan, Finland, Italy and Brazil.
There is also the issue having every network except DTT offering Ultra HD on a national scale. In the UK for instance – a market that still relies on terrestrial broadcast to a great extent – you can receive Ultra HD via DTH satellite with Sky, via cable with Virgin Media, via IPTV with BT TV, and OTT with BBC's iPlayer. There are no Ultra HD terrestrial broadcasts in Britain however.
Where are we going to see most growth in the coming years? Telling the future is always tricky but cable operators are likely candidates, for there are many of them and when they upgrade their networks and consumer premise equipment (the set-top boxes in the field) they can simply pass on a selection of the various Ultra HD channels available for distribution.
Another strong possibility is DTT, and in particular DTT in the United States. The United States is in the process of deploying NextGen TV using ATSC 3.0. This started in earnest in 2020 and is being done on a voluntary basis. Even with the COVID-19 pandemic, over 20% of US TV households are already in a market with NextGen TV transmissions. Due to a lack of spectrum, stations are predominantly channel sharing to do the early launches, and over 100 channels of programming are already available. While these are not yet bona fide Ultra HD channels, the groundwork is being laid and there is potential for major growth in Ultra HD via DTT.
Stay tuned to our Service Tracker to see how this rolls out.